In two weeks I will have 100 11 x 17 posters and 100 4 x 6 postcards available for sale of my Barbie Masks project – exploring the concepts of gender, sexuality, identity, and present beliefs about the future through the manipulation of a common cultural icon (the Barbie doll). The below image is of a "rough" version of the poster.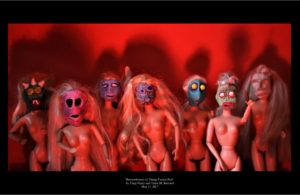 I made the dolls and my friend/collaborator Tiana M.B. took the photo!
If you are interested in purchasing one in advance of their sale in my online store (which will be up soonish, I swear!) please contact me via the contact tab.