August 20, 2022
Mr. Pacman returns to play an all day fest at the Larimer Lounge (Denver, CO)
May 13, 2022
William Basinski
Tripp Nasty
Hi-Dive (Denver, CO)
This show soldout and at the end of the night I learned that William Basinski had personally picked me to open for him and he told me gossip about classical composers from the late 70's and early 80's. What an incredible night!
April 01, 2022
Brandon Wald
Viator
Many Blessings
Maltreatment
Tripp Nasty
MPW
at Mutiny (Denver, CO)
This was my first Tripp Nasty show since 2015, and my first post quarantine show. It was super fun. Everyone played an excellent set. I couldn't stop smiling all night.
September 2, 2019
Lifers plays with Kneeling in Piss (Ohio) and American Culture (Denver)
at Nude City in Denver, Colorado
(ask a punk)
July 1, 2019
Lifers plays with some punk bands from Canada at Rhinoceropolis
June 28, 2019
Mr. Pacman at the Mile High Sci-Fi Last Show Ever at the Oriental Theater
May 10, 2019
FEELS (Los Angeles), Midwife (Denver), Sweetness Itself and Lifers
at The Syntax Physics Opera in Denver, CO.
Starts at 9PM!
Note: a lot of people came to this show and the next day FEELS got signed to SUB POP. The puppet show from Puerto Rico was great and made the whole evening way more fun than it should have been.
March 26, 2019
Prism Bitch (from ABQ, NM), Lifers, Debaser
at the Nude City Relief Center in Denver, CO.
I'm playing keyboards in a new band called "Lifers" and this is our first show!
December 31, 2018
Itchy-O and Mr. Pacman
at the Oriental Theater in Denver, CO.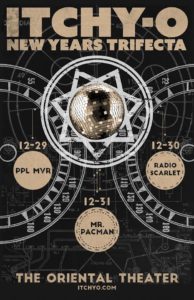 July 26, 2018
Mr. Pacman, Rat Bites, Robot Peanut Butter
Your only chance this year to catch the legendary Mr. Pacman until the end of the year!!!
at Syntax Physic Opera in Denver, CO.
June 4, 2018
Gen Pop (Olympia, WA), GOON (Denver), Lisa Matthews (universe)
at the Seventh Circle Music Collective in Denver, CO.
August 5, 2017
Mr. Pacman, Bolonium, Claudzilla
Skylark Lounge (Denver, Colorado)
July 12, 2017
A lecture by local writer, musician, and historian Tom Murphy with an accompanying demonstration of a Presto K-8 record lathe by Tripp Nasty.
At the  Ross Cherry Creek Public Library  from 6:00 PM to 7:00 PM
June 27, 2017
Gaytheist, Lisa Matthews, Pale Horse/Pale Rider, A Great American Housefire 
June 18, 2017
Lisa Matthews (Tripp Nasty's booking agent) will be playing a LGBTQ Pride Event at the Larimer Lounge at 5:00PM with like a million other bands playing before and after her! Come down and celebrate our freedom!
May 22, 2017
Shannon Lay (from L.A.), Midwife, Midgut, Lisa Matthews (Tripp Nasty's booking agent)
at "ask a punk"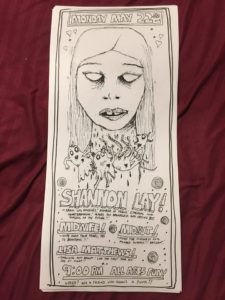 booked by Monkey Mania Productions so it should be a great show!
December 21, 2016
Tripp Nasty appears at Bummeroo 3
Bummeroo is an online festival curated by David Castillo from Pizza Time,  the Tender Moments label, Panaderia and Petite Garcon!
Mr. Pacman with the Magic Cyclops, Kuxaan Sum and Suzi Homewrecker
A Benefit for Adrienne Lisa to help with her hospital bills after she fell through a plate glass window this summer.
Where: Deerpile (above City O'City at 206 e 13th avenue denver, co 80203)
DJ Set by Franklin Bell
July 17, 2016
Mr. Pacmen, Sugarsplat and the Magic Cylops
Where: Hi-Dive (Denver, CO)
Note: Great but ill attended show. Mr. Pacmen premiered the first song I wrote for them since 2007, "Snack Attack".
June 25, 2016
Appearance at the Denver Zine Fest to sell some paper with words to people.
April 9, 2016
STONER WITCHES screening and live performance by Tripp Nasty
Where: The Tannex (Albuquerque, NM)
March 23, 2016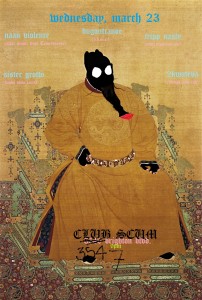 Naan Violence (touring sitarist), Sister Grotto, 2kwateva, Dugout Canoe, Tripp Nasty
Where: Club Scum (DIY venue in Denver, CO)
Note: Tripp Nasty's last show in Denver for a long, long time. There was a terrible storm and no one came except for the people who live at Club Scum, Rhinoceropolis, Glob and my friends Darren and Jared (those guys rule, especially since they gave me a ride home!). I walked to this show, in a dress with all of my equipment in my backpack for over 3.5 miles but all my friends with cars said they couldn't do it cause it was too dangerous, people suck. Naan Violence ruled as usual.
March 12, 2016
"Reproducing Sound: The Origins and Invention of the Record Player"
a talk given by Tripp Nasty and Adam Baumeister
Sponsored (indirectly) by the Denver Public Library
at Mutiny Information Cafe
March 11, 2016
Mr. Pacman, The Magic Cyclops, more TBA…
Where: Syntax Physic Opera (Denver, CO)
Note: Tripp Nasty has played on-and-off in Mr. Pacman since 2005. This will be her first appearance with the band since their show at Red Rocks in 2007. This show will probably sellout so buy your tickets in advance!!
March 04, 2015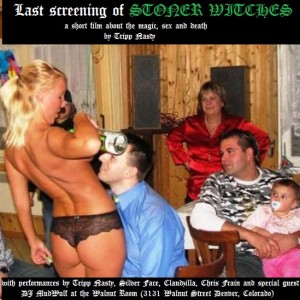 Last showing of STONER WITCHES in Denvver
with live performances by Tripp Nasty, Silver Face, Claudzilla, Chris Frain and DJ MudWulf
Where: The Walnut Room
March 03, 2016
Tripp Nasty live at the Skylark Lounge
December 21, 2015
Sugarsplat, Claudzilla, The Terminals, Tripp Nasty
Note: I'll be showing my short film STONER WITCHES this evening and playing a rare musical set
Where: Larimer Lounge
Doors at 7, show at 8, $8 to get in.
Notes: Somehow on my walk to the show I lost my driver's license, dam. The Terminals ruled, absolutely and totally. Free jazz, riffing freakout with my favorite living saxophone player Becca Mhalek plays in The Terminals so I am a little biased but honestly, if you get the chance go see them. Claudzilla played some xxxmas inspired verses and some traditional Americana by The Cramps and Jason Molina, superb. The evening ended with Sugarsplat whose overall rock-n-roll attitude blew me away along with their custom light show, whoa!!! (and good luck to Pepe from Sugarsplat, be safe on your deployment dude!) Super fun night overall and I gotta say the sound/PA system at the Larimer Lounge ruled. I played two songs that night and I have never heard myself so good on a stage in Denver ever before. I just want to play there all of the time now because of this.
November 19, 2015
November 7, 2015
The Premiere of Tripp Nasty's Short Film: Stoner Witches
With Special Guests and Presentations:
Ghoulfriend (the noise of haunted Denver)
SCOLDED (suspended animation/brought to life by Keith Manzanares, the guitarist from Mailman Land)
Data Rainbow (Zach Reini from Civilized techno/noise band)
John Golter's Shadow Puppet Disaster (shadow puppets accompanied by live music)
A Showing of "The Existential Beaver" by director Kim Shively and a live appearance by its hosts, Matt Slaby and Zachary Spencer.
"The Mayoreo Show" a short film by Colin Ward and Stephan Herrera from Alphabets
Coffee, Donuts, popcorn and pie!
At: Glob
Please Note: The Electric Boogie Tribe had to cancel their appearance at this event due to some problems with the authorities.
September 9, 2015
Nerve Beats (Hawaii), Mailman Land and CP-208
At: Mutiny Information Café (Denver, CO.)
Starts at 7:00PM (donation for touring band from Hawaii, please!)
Note: The only show where we ever got asked to do an encore and the last CP-208 show ever which was a shame since we had just gotten signed to a label the week previously.
August 27, 2015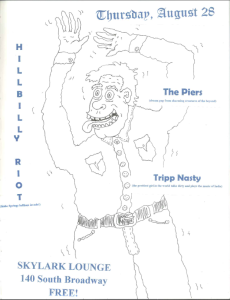 The Piers , Hillbilly Riot and Tripp Nasty
At: Skylark Lounge (Denver, CO.)
Starts: 9:00PM (Free)
Notes: The Piers have one of the best guitarists I have ever seen. Her name is Molly and she rules! The Piers have a sort of early California new wave sound, real fun stuff. Hillbilly Riot from Idaho Springs, Colorado were not what I expected. I thought rockabilly when I heard their name and I was pretty far off. A mix of metal and surf rock more aptly describes their sound. I closed off the night talking about how fate and destiny are crap with examples from my favorite movie, Damien: Omen II and a story about how I got invited to join the Sun City Girls after Charles Goucher passed away. Life is chaotic and weird, thank goodness!
August 5, 2015
Helicopter Copter, The Mourning Sickness and Tripp Nasty
At:The Walnut Room (Denver, CO.)
Starts: 7:00PM ($5.00)
Note: I was a last minute replacement for the great and mighty Patrick Porter (one weirdo replaces another, I guess…). I ended up selling all the merchandise I brought to this show (records, lathe cuts and postcards) and The Walnut Room gave me a whole pitcher of beer to myself. It was pretty cool!
CP 208, Ghost Bones (Hot Springs, ARK), Pythian Whispers
At: Mutiny Information Cafe (2 S. Broadway Denver, CO.)
Starts at: 7:00PM (donation for traveling band)
Notes: This show was awesome! Ghost Bones was great, CP 208 played a short and totally sweet set, Pythian Whispers was like Purple Vuh live in concert in 1977. Really fun evening!
June 20, 2015
CP 208 and Gula Gila (Chicago), Birthday Girl (Oakland), The Carnivores (Denver)
At: CLUB SCUM (3547 Brighton Blvd. Denver, CO.)
Starts at 9:00PM ($7.00)
Notes: CP 208 wasn't able to play this show due to family emergencies but I heard it was amazing.
May 23, 2015
Necrocomicon II
Tripp Nasty and a lot punk rock and black metal.
At: Bar Bar (2060 Champa St. Denver, CO.)
Starts at 8:00PM
Notes: There were a lot of ladies dressed as Princess Leia at this show and a nice older gentleman in a Slipknot shirt bought me a beer, not too bad.
May 02, 2015
CP 208, Whore Moans and Continuous Partial Attention
At: Deer Pile (Denver, CO.)
Starts at 8:00PM and ends at 12:00AM
Notes: CP 208 was only allowed to play two songs at this show. Apparently we were too loud.
August 8, 2013
At: Pehrspace (Echo Park, CA)
Starts at 10:00PM
Notes: as always much thanks to Sean Carnage for booking me! I love going to L.A. and getting to play at the Pehrspace, what a great scene! Showed the Hitler High: Pandora's Bong trailer at this show!
May 24, 2010
Sean Carnage and Peter's Pool Boys present:
Essay, Whisky Dick, Bongo Fury, Voice on Tape, I.E.
At: Pehrspace (Echo Park, CA)
Starts at 10:00PM
Notes: Bongo Fury was the folk-noise band I led for 5 years in Denver. This was our second and longest tour done in the early summer of 2010. We played in Albuquerque, Tucson, L.A., Oakland, Portland and Seattle (at a show Alan Bishop from the Sun City Girls set up which was great because we got to play with one of my noise heroes, The Climax Golden Twins. Bongo Fury was a great band and we had a great time on this tour.) This L.A. show was real special for me because I got to play with one of my overall heroes and one heck of a person, I.E.
 November,26 2005
Dung Mummy, The Radioactive Chickenheads, Sumako and Tripp Nasty Orchestra
At: IL CORRAL (662 no. heliotrope dr (just south of melrose )
los angeles , ca 90004)
Starts at 9:00PM – $6 – suggested donation
Notes: Dame Darcy and Don Bolles came to this show. I carried Dame Darcy around in my arms like a doll and couldn't stop smiling all night because of it!
Will be updating with more past shows soonish….