Selfie in the bathroom 2022.
If Stephen King had a younger, prettier brother who had recently emerged from their parents' basement after a game of Cave Evil, it would be Tripp Nasty, AKA "Nancy Drew's Long Lost Assistant".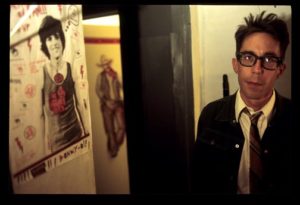 Tripp Nasty at Rhinoceropolis circa 2006 (photo by: Matt Slaby)
With a love for acoustic country blues, Mariachi bands, noise records, the Sun City Girls, Bloodspasm (Tucson), lowriders, Karen Finley, physics and mathematics, John Cage, Sun Ra, and the sound of freeways and heatwaves, Tripp Nasty started publicly performing in Tucson, Arizona in the late 1980's. In 2002 he headed north and is now based out of Denver, Colorado.
Tripp Nasty has played in:
Rocket No. 9 (Tucson Arizona – 1989-1996) – first real band. I had auditioned for others but chickened out for lack of equipment before meeting my friend Paul Radek and eventually forming this band. Lots of lineup changes, lots of talented and fun people in it. Loy Fankbonner from Rapier Papercuts fame. Jeff Glave from The Fells. Jason Willis from the Weird Lovemakers and my favorite drummer of all time, who once threw a drum stick at me at our never released studio recording session, Melanie Weiss.
Duarte 6 ( Tucson, Arizona – 1996-1997; toured with Crash Worship in the Summer of 1997) – this band was great and we got to go on tour with Crash Worship for 3 months. That was wild and I could write an entire book about it, we were driven to the Stateline by the police in Georgia?!? For playing a music show?!? First band I was in where we were able to put out an album. We once got a letter in the mail (this was 1997) from a person who admitted to being on heavy drugs at our Atlanta show, and he described seeing angels and meeting people from other dimensions. That summer was a life changer for me.
Mondo Guano( Tucson, Arizona; bass player, 1996 – 1999) – I played in a later version of Mondo Guano. They asked me to just play one show they were going to do at Thermos Malling's wedding after not playing for years. I was super flattered, they had been one of my favorite bands for years. I played 2 more shows with them until 1999 when Bob Log was just too busy with his solo career and I went back to college. The people in this band are all super talented and even to this day doing really cool stuff. Seek them out if you've never heard them before.
The Zero Kings (Tucson, Arizona; bass player 1996-1997) – band with Jeff Glave from The Fells, and Jay Verkamp. Learned a new set of songs from the 50-70's and then stripped them down to their very essence in a garage rock way for every show. Probably the most popular band I was in for making money and having obsessive fans.
Calexico (US Touring Bass Player 2001-2002) – I only got to play one show with them at Club Congress' Anti-Valentine's Day Show and then I moved to from Tucson to Denver. Timing just didn't work out. I was not a big fan of their music but they were really fun to play with, a bunch of super talented musicians in that band. I was lucky.
Mr. Pacman (Denver, Colorado – 2005 to present) – if there is a rock anti-hero it is Mr. Pacman. I have proudly been a performing member of this band since 2005 when they asked me to play keyboard with them at a show at the Knitting Factory (remember that place?!?) in LA.
The Tripp Nasty Orchestra (a diy string quartet in Denver, Colorado from 2004-2006) – Started off playing my early synth songs, then people joined me and we were a band playing my synth songs. Then some string players we knew joined us and we were this cool synth and string group. We opened for Dan Deacon on his sceond tour. He was still touring by Greyhound then. There's a good live recording of this out there if you look hard. Then all the keyboardists moved onto new projects and the string players and I tried to bring experimental classical music to the diy warehouse and house party scene. We played Philip Glass, Arvo Part, Captain Beefheart, Volans, and Sun City Girls songs. We do not sound good in the videos of us in this period on YouTube but live we were pretty good for a group playing in your living room or cold warehouse.
The Mind Kontrol Sect (another diy string quartet in Denver, Colorado from 2006-2008) – There's a split 7-inch out there with Echo Beds with the only recorded output of this group. It is fantastic. A music committee at the BBC seriously considered it for the end credits of a documentary, but finally deemed it "too exciting." The string players and drums in this band were realy good.
Bongo Fury (folk-noise band in Denver, Colorado from 2008 to 2011; read this wonderful review) – had to be there.  Great band and well admired towards the end of our time. A few of our musical heroes requested us to open for them. We were all quite flattered by this. We also got to play at the Blue West with the Climax Golden Twins which was arranged by Alan Bishop himself (I was so nervous that night, and I was so happy!)!I had a really fun time with all of the people who played in this band, and I miss playing music with them quite a bit.
CP 208(singer of this noise-rock band in Denver, Colorado from 2012 – 2015) – I just sang in a great band and that was it. Doug Mioducki, T.M. Bernard, and Darren Kulback wrote all the kickass music.
Lifers (Denver pop band, keyboard player from 2018-2020) – really fun band.
Tripp Nasty tried and failed to manage Bebe and Serge in the late 1990's. He is also an uncredited backup singer on one of the songs on their famous first album, and when he asked Serge why he wasn't credited Serge replied, "I thought it would make you angry and it's funny when you're angry."
Tripp Nasty owns a Presto K-8 Record Lathe which has been used to make limited edition lathe cuts for: Bob Bellerue, Page 27, Steven Santa Maria, Action Beats, Shams, Sara Century, Raven Chacon, DREAMWIG, Tenderizor and many others…..
This life would not have been possible without the inspiration and support from: my family,  The Sun City Girls, Lucas Mosley, Raven Chacon, Paul Radek, the Star Ship Stereo family, Amy Fantastic and Josh Taylor, Jason Issacs, Mike Buckley, Edward Pierson, Peter Larson, Jason Willis, Neil Kight, Andy Halper, Zachary Spencer, The Toxic Ranch, Sybil Marie Clarke, Bebe McPhereson, the La Shy Girls, Loy Fankbonner, Nicole Pagliaro, Tiana M.B., Darren Kulback, Kevin John Wesley, Justin Loseke, Echo Beds, Sara Century, Jacob DeRaddt, Matt Slaby, Mat Brinkman, Brian Medower, Jeff Nelson, Nautical Almanac, John Golter, Marcy Saude, Tom Murphy and the members of Friends Forever
Viva Casa Bonita!
我是一个漂亮的变性人谁做疯狂的事情在科罗拉多州丹佛市
我打野的音乐。我做野电影。我的中国是不是好。
#泰国变性女性
 #denver #lathecutrecords  #musician #trippnasty #horrormovies #noise #southwest  #denvver #stonerwitches #Gordo'sHouseofChimichangas #LGBTQ_performer #LGBTQ